What's the difference between a chalet and chalet hotel?
A Chalet Hotel is best seen as a bridge between a locally run hotel and the traditional British-run chalet.
A Chalet Hotel has the same ambience as a chalet
Typically a Chalet Hotel is a hotel that is run by a tour operator, with predominantly British staff, and has a similar ambience to a chalet holiday. It's a much more relaxed environment than in a 'formal' hotel.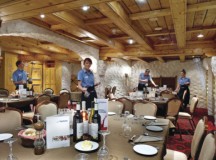 The dining room in the Chalet Hotel Les Anemones,
Courchevel 1850, France
The service you receive is the same in most respects as a chalet. You can expect breakfast, a tasty afternoon cake with tea and a three- or four- course evening meal with wine included.


Chalet Hotels tend to be bigger
The main difference is in the scale. While Chaletline offer chalets for groups as small as four, the largest chalets tend to be for about 16. Chalet Hotels can cater for anything from 30 to as many as 180 guests. In that respect, a Chalet Hotel is perfect for larger groups who want to retain the chalet experience.
You can be as sociable as you like, or keep to yourself. At mealtimes, instead of one table, Chalet Hotels tend to have a number of larger tables. You can vary where you sit every night, or stay on the same table. If there a group of you, you can often eat together every night should you want.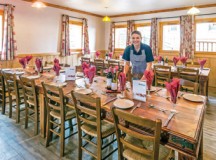 Chalet Hotel Rosset, Tignes, France
It's also usual for a tour operators to employ professional chefs in a Chalet Hotel, accustomed to catering for larger numbers. You may well have a qualified chef in a chalet as well, or it could be a well-experienced chalet host.
Have a drink in the hotel bar
One of the more significant differences is in the communal areas. In a chalet, there tends to be one or two living rooms for you to relax in. In a Chalet Hotel there may be a lounge, but it doesn't always have the cosiness that a chalet can offer. On the other hand Chalet Hotels often have a bar, which offers an informal way to socialise on a larger scale than a chalet – and without leaving the building! Chalet Hotels are also more likely to have facilities such as a games room or sauna.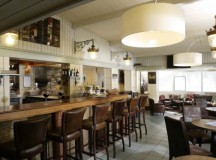 The bar at The Lodge, Val d'Isere, France
Perhaps the biggest loss in a Chalet Hotel is the reduced connection with the staff. A chalet is much more informal and you'll usually have more contact with your hosts, who you'll see at each meal and who often sit down and join you for dinner.
Is a Chalet Hotel right for you?
So, in summary, Chalet Hotels might be a better choice for you if:
You'd prefer less formal atmosphere than in a regular hotel

You're looking for chalet accommodation for a large group

You prefer to mix with a wider variety of holidaymakers

You like to enjoy the facilities a hotel has to offer
And of course, your choice of property will be determined by the resort you want to travel to and the time of the season you want to travel.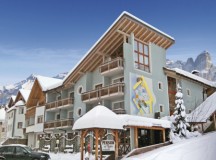 Chalet Hotel Al Pigher - La Villa & Corvara, Italy
If you give the Chaletline team a call on 01822 617761, and let us know your requirements, we will use our knowledge and experience to find the best choice of catered chalet holiday for you.