AMAZING SKI CHALETSLes Arcs: 1800
WEsay Arc 1800 is the biggest and busiest of the Les Arcs villages and is great for all standards and abilities of skiers. A purpose built village great for convenience.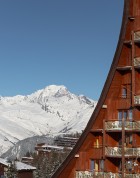 Pictures Courtesy of the Les Arcs Tourist Board
Together La Plagne and Les Arcs form Paradiski, Europe's third largest ski area. With plenty of pistes above 2,000m, the area tops out at over 3,000m. This altitude, assisted by 470 snow cannons, makes the resort pretty reliable for snow. There is good terrain for all standards of skiers and every conceivable type of run.
Directly above Les Arcs 1800 a series of chairs spread across the mountainside and can attract quite a crowd. The skiing here is largely easy and features the best nursery slopes in the area. Just below the resort is the terrain park with boarder cross spines, rails and boxes, although in the Paradiski are there are plenty of natural hits for boarders to play on. Les Arcs is known as the home of snowboarding and it is the perfect environment for beginners to learn in. Main mountain access is through the 2 stage gondola up to Les Arcs 2000 and the Aiguille Grive at 2,600m. From here there is an endless choice of tree-lined runs back down to Les Arcs 1800. Something the more confident skier should try is the Aiguille Rouge which stretches 7km back down to the Villaroger and is Europe's biggest drop at 2,000m! Les Arcs is most famous for its speed-skiing track set above 2000 where many Olympic records have been broken. For a small fee anyone can have a bash, albeit from a lower starting point.
Les Arcs is very ski focussed so for most off slope activities it's best to head down to Bourg-St-Maurice. Just above 1800 there is the ice grotto, plus snow shoeing and dog sledding available. Of the villages in Les Arcs, 1800 has the liveliest nightlife but it is certainly quieter than most other big French resorts.
RESORT highlights
New for 2017/18
The chairlift from Pré Saint Esprit, under Arc 1950 and Arc 2000 will be enhanced from a slow triple to a fast six-seater with heated seats and covers. The top station of the new chair will be of a greater height than the old one, making it 2.85km long, the longest in France. A new snowmaking facility has been created in the building housing the new chairlift. This will increase Les Arcs snowmaking capability by 50% and over 60% of the resort's runs will be now covered by snowmaking.
New for 2016/17
Les Arcs is getting its first five-star hotel, the Taj I Mah in Arc 2000 - quite a radical turn around in a resort where hotels of any kind are rare. It will have all the luxuries you might expect, including a Michelin-starred chef.
best FOR
Diverse slopes on and off-piste
Lots of challenging skiing
Some brilliant woodland runs
Car-free, mainly convenient villages, including pretty 1950
Some tranquil alternative bases
Quick cable car connection to La Plagne