Tips & Advice for First Time Skiers
15 of the Best
1. Book the right resort
If you're going to learn to ski you need to be in a suitable resort for beginners and in the right accommodation – ending up in a resort full of black runs is not what you need. We've picked those resorts which are best suited to beginners so why not have a look.
The Chaletline team are experts in ski holidays – just give us a call on 01822 617761 and we'll recommend the best options for you.



2. Stay in a catered chalet
The last thing you need when you're learning to ski is to have to go back to a self-catering apartment and make your dinner at the end of a long tiring day.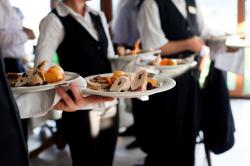 A chalet is less formal than a hotel - when you stay in a catered chalet, you can put your feet up at the end of the day enjoying a freshly baked cake, or simply chill out in the living room sharing your photos of the day on Facebook using free WiFi. Suitably recovered and relaxed, you can then join the rest of the chalet for a delicious three or four course evening meal with wine.
The Chaletline team can find the best of the latest catered chalet offers – as well as offers for beginners - for you.
Staying in a chalet will also mean having access to a resort representative to make your life easier. They will arrange your lift pass, ski hire and ski school for you and either the rep or chalet staff will normally deliver your lift pass to your chalet and guide you to the hire shop and ski school on your first day.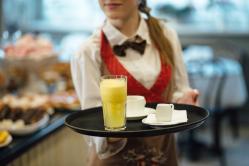 3. Get fit before you go
Learning to ski can be physically demanding. It's certainly hard work for the first few days – you will inevitably end up falling over and picking yourself up a few times. The fitter you are in general, but in particular the stronger your core strength, the more it will benefit you, so make sure you get down to the gym on a regular basis at least two months before you travel.
4. Consider late-season skiing
For your first ski holiday it can be a bonus to learn at a warmer time of year. If you don't have to worry about the cold then that's one less thing to think about when you're trying to master a snowplough. Nothing is ever guaranteed with the weather, but the longer days in March and April are typically warmer with more hours of sunshine and suit beginners.
5. Try skiing before you go
Just because you're a beginner doesn't mean you have to wait until you arrive in the Alps to learn. You can make your first few days on snow that much easier, and speed your progress, by trying skiing or snowboarding in the UK before you go.
Visit your local indoor snow slope or dry slope and book a beginners lesson. Or if you are near Basingstoke, Reading or Chiswick then try Skiplex. The Go Ski Go Board campaign offers some great discounted options for beginners to try the sport.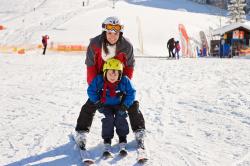 6. Make sure you have ski-specific insurance
This is an essential whatever level of skier you are - an accident on the slopes can cost a lot of money so make sure you're insured
7. Take time to enjoy the view
It's not all about skiing. One of the great parts of any ski holiday is enjoying the views of the mountains. Take your time and appreciate the beautiful part of the world that you're in.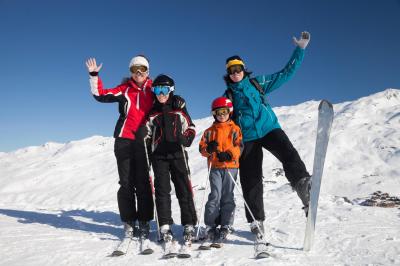 8. Rent (don't buy or borrow) skis, snowboards, boots or helmets
There's no need to buy expensive skis, snowboards or boots for your first holiday. The local hire shop will have a wide range of equipment available, suitable for your ability level and size.
Your friends might have kit but it is unlikely to be the right size or ability level. On top of that, you will have to get them to resort and back. You'll have to pay ski carriage costs and have to haul the skis or snowboard out to resort and back. For your first skiing holiday, it's best to keep it as simple as possible.
9. Borrow or buy clothing
On the other hand, kit like goggles, ski pants and ski jacket are fine to borrow. There's no need to invest in this for your first trip unless you have to (although obviously you will fall in love with the mountains and come back!)
If you do want to buy, you can find some great bargains at stores such as Sports Direct, Go Outdoors or TK Maxx – just make sure that what you buy are waterproof, breathable fabrics (skiing in jeans went out in the 80s and won't keep you dry!)
And if you are going to invest in just one item, our recommendation is a good base layer – this will keep you warm, but also wick away moisture from your skin.
10. Don't worry about the cold
Yes, it's a ski resort and of course it can get cold. But if you're wrapped up well in good quality clothing and especially gloves and a hat, you should be fine. And if it really does get cold, many shops sell heat packs that you can put into your skis and gloves/pockets to keep your hands and feet warm.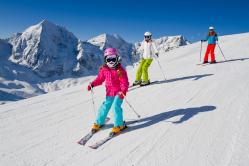 11. Book lessons
Don't imagine you can teach yourself how to ski or snowboard or that you'll 'just pick it up'. Lessons may seem expensive, but the instructors are trained to teach, speak excellent English in most resorts and will ultimately increase your chances of having a successful holiday.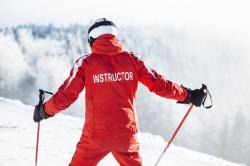 12. Don't worry about getting off lifts
It's not as difficult as you think despite what you may hav seen on YouTube and the 'lifties' will slow it down for you. Plus as a beginner you'll mainly be learning on very easy, slow lifts and gentle pistes.
13. Save the drinking until the end of the day
Apres ski is one of the greatest parts of a ski holiday, but top up with water or soft drinks until the end of the day's skiing. You'll find it easier to stay in control and you'll be less dehydrated.
14. Use Sunscreen
It might look cloudy, but when you're at high altitude those UV rays are more powerful than ever. Make sure you use sunscreen every day, reapplying at lunchtime.
15. Don't assume that you will need to use thermal underwear
Yes, you're on a mountain, but your ski pants will give you good insulation and don't forget you will be exercising. You will know your own temperature limits, but thermals are for cold December and January days, not spring skiing!
Suggested list of Essential Items to Take on your first ski holiday
Goggles (for when you're in action)
Sunglasses (for lunch stops)
Ski pants
Ski jacket
Socks (super thick socks not essential: with modern boots a thinner sock allows you a better fit and more control)
Base layer (see no.9 above)
Fleece
Warm hat
Buff (or scarf)
Thermal underwear (see no.15 above)
Backpack (useful for carrying spare layers, water, piste map etc)
Sunscreen