AMAZING SKI CHALETSZermatt
WEsay Ancient, historic climbing town with ski area linked to Cervinia in Italy. Lashings of alpine charme and luxury accommodation.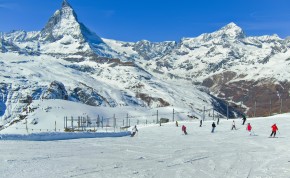 Shutterstock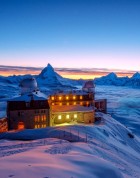 Shutterstock
Zermatt is a strikingly beautiful, historic resort with a unique special magic all of its own. The delightful traffic-free town visibly oozes Swiss charm - elegant shopping streets are crammed with chic shops and historic hotels, whilst the variety of restaurants on offer is second to none. Traditional wooden "mazots" blend comfortably with modern chalets whilst the region itself is dominated by the majestic Matterhorn.
The linked region of Cervinia offers not only stunningly scenic skiing but also the highest ski area in Europe. Chaletline fetaure some great properties here. The Ski Chalets Zermatt area is divided into three - Sunnegga, Gornergrat and Klein Matterhorn. Sunnegga features some steep slopes from 3,100m as well as plenty of pleasant sunny skiing. Gornergrat, meanwhile, has wide reds and blues, with reliable snow and post-January experts can head up from here to the infamous balck moguls of Triftji. There's also a breathtaking red run down to Gant, the valley connecting Gornergrat and Sunnegga. Finally Klein Matterhorn is reached by express from the edge of the village and is linked to Cervinia. Up here, 3,000m, there is relaxed, snowsure skiing for all.
The range of non-skiing and apres skiing facilities here is truly impressive and could easily take up more of your time than the skiing itself. Apart from the impressive leisure facilities there are dozens of watering holes and restaurants to suit every taste. During the day, visit one of the rustic bars or tearooms, and later experience one of the many live bands, or drop in to a bar or disco.
RESORT highlights
New for 2017/18
Efforts continue on the 28-seater gondola from Trockener Steg to Klein Matterhorn at 3821m which is due to open for the 2018/19 ski season. It will significantly reduce queues for the often busy cable car that follows the same route. In the meantime, for 2017/18 the lift company has added an Easy SkiCard (a points card where you pay by lifts used), an Hours Card (where you pay by the hours used) and priority boarding for the cog railway to Gornergrat (an extra CHF5 guarantees you a seat). And children under 9 get a free ski pass when with an adult who has a multi-day pass.
New for 2016/17
The old gondola from Gant to Blauherd is finally being upgraded to a fast six-seat chairlift with over twice the hourly carrying capability. The replacement had been delayed because the lift company had hoped to create a new piste to a lift in the Findeln area; but that proved to be impractical, hence the new chair at Gant. The new lift will give a much faster ride and reduce queues.
best FOR
Excellent, high, extensive slopes
Breathtaking high mountain scenery
Quaint but rather sprawling old village; car-free (but not traffic-free)
Consistent snow at altitude
World's best alpine restaurants
Top quality nightlife to suit various tastes
a multitude of activities to do off the slopes
Linked to sunny Cervinia in Italy
Widespread helicopter operation