WEsay Also known as Hollywood-on-Ice, Aspen is one of the top resorts in North America, this resort has something for everyone. A great place for celeb-spotting.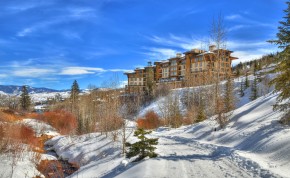 Shutterstock
Aspen is one of North America's most exciting resorts, surrounded by dramatic and beautiful peaks and dominated by the Maroon Bells. Aspen is one of the all time greats of world-skiing where anyone will feel at ease with the choice of four mountains on one lift pass and connected by an efficient bus shuttle. Aspen offers the perfect ingredients for a great ski holiday.
The skiing is divided into four areas. Buttermilk is best for beginners with lots of greens and blues. The eastern side of the mountain is given over to black runs, although they are manageable by most intermediates too. This area also features a massive terrain park. Snowmass is the largest area and suits all abilties. It has a 1343m drop and the upper mountain is best for the advanced among you. Aspen Highlands is just a 9 minute ride from the resort and features some rugged skiing. Beginners and intermediates can amuse themselves at the lower part of the mountain, but generally the area is suited to the more daring with a series of vertiginous runs served by the Deep Temerity. Finally Aspen Mountain is the home of the expert with pretty much all rus classed as black. This being said confident intermediate can handle some full length descents on smooth slopes.
In Aspen there is shopping and partying aplenty. The town is lively with a great selection of shops, bars and restaurants and overlooked by incredible pistes. Here you will find the best apres ski from convivial 'spit-n-sawdust' cowboy bars, cheap and cheerful restaurants to gourmet cuisine and stylish nightclubs. There is an amazing variety of shops and boutiques to browse around.
RESORT highlights
New for 2016/17
Aspen will host the 2017 Audi FIS Ski World Cup Finals in mid-March, recognizing the first time the event has been held in the USA in 20 years. At Snowmass, Gwyn s High Alpine table-service restaurant at mid-mountain is experiencing an extensive update that will see a marginal enlargement of the building as well as the inclusion of a bar that will have a sizable wood-burning fire and big-screen televisions. The previous cafeteria-style cafe_ will change into a market setup that should mean less waiting.
best FOR
Notably uncrowded slopes
Glamorous, lively old town, with plenty of restaurants and shops
Superb Aspen Highlands and Snowmass just up the road
Convenient airport on edge of the village
Wide spread, varied slopes to suit all standards