AMAZING SKI CHALETSLes Arcs: 2000
WEsay The highest of the Les Arc villages and the best snow.Purpose built, this is a modern place with ample bars and restaurants, many ski in /ski out residences.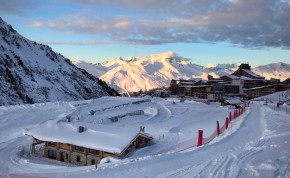 Shutterstock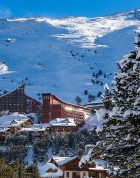 Photos Courtesy of the Les Arcs Tourist Board
With plenty to offer skiers of all abilities, this part of Savoie, France, is also known as one of the homes of snowboarding and close to the resort is a terrain park with cross spines, rails and boxes. There is also a great choice of natural runs for keen skiers and boarders alike and as the highest of the villages within the resort area, the best snow can often be found right on your doorstep. A gondola and several six-seater lifts ensure that the best spots are easy to reach for all the guests staying in Les Arcs 2000.
Family fun - Being a pedestrianised resort, it is ideal for parents with young children that are looking for a destination where they do not have to spend the whole time worrying about safety issues. A bowling alley and ice rink can be found in the village, providing alternative entertainment options for those who fancy a few hours away from the slopes. With the capacity to host over 7,000 guests at any one time, it is no surprise that this village is home to quite a few local shops, which makes it very easy for people to arrange ski hire in Les Arcs.
Getting started - For those who are looking to book their first winter sports holiday, this resort has to be on the shortlist as one of the best places to stay. Within easy reach of the Les Arcs ski chalet are many excellent nursery slopes and these are complemented by the snowboarding facilities mentioned earlier. However, with a speed track just above the village and the Aiguille Rouge, a 7-kilometre run that drops over 2,000 metres, there is plenty to attract the more experienced skier as well. Among the resorts in this area, the hotels and chalets that comprise Les Arcs 2000 accommodation are very popular.
See our blog on Club Med's Arcs Extreme property in Les Arcs 2000
See our blog on The Woman behind the radical design of Les Arcs
RESORT highlights
New for 2017/18
The chairlift from Pré Saint Esprit, under Arc 1950 and Arc 2000 will be enhanced from a slow triple to a fast six-seater with heated seats and covers. The top station of the new chair will be of a greater height than the old one, making it 2.85km long, the longest in France. A new snowmaking facility has been created in the building housing the new chairlift. This will increase Les Arcs snowmaking capability by 50% and over 60% of the resort's runs will be now covered by snowmaking.
New for 2016/17
Les Arcs is getting its first five-star hotel, the Taj I Mah in Arc 2000 - quite a radical turn around in a resort where hotels of any kind are rare. It will have all the luxuries you might expect, including a Michelin-starred chef.
best FOR
Diverse slopes on and off-piste
Lots of challenging skiing
Some brilliant woodland runs
Car-free, mainly convenient villages, including pretty 1950
Some tranquil alternative bases
Quick cable car connection to La Plagne