Family Ski Chalet Holidays
A family ski chalet holiday can be an experience you will never forget, and will end up repeating again and again over the years.
It's wonderful to watch young children building their confidence as they learn new skills and enjoy being active, outdoors in a beautiful Alpine environment. It's one of the few holidays that the whole family can share together year after year - when they're older, even moody teenagers will want to spend time with you on a skiing holiday.
Even better, in a catered chalet Mum (or Dad) doesn't need to cook a meal all week!
Click here to view all our chalets and chalet hotels offering in-house child care, creche, or nanny service.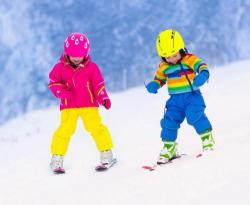 How do you choose the right ski chalet for your family?
Chaletline specialises in helping families find the right ski chalet - that's our job!
So the simplest answer is just to give us a call on 01822 61 77 61 or contact us online and tell us what you're looking for. We know that suitable flight times and a short(ish) transfer to your chosen resort is often top of a family wish list. With a variety of regional flights and arrival airports to choose from our chalet experts will make the travel as painless as possible.
Alternatively, our website makes it easy for you to call up a list of all of our family chalets and hotels that offer specialist in-house childcare either via private nannies and/or the operator's own creche. British run crèches, kids clubs, ski schools or evening babysitters are also alternatives on offer. For help choosing the right resort for families,

our resort finder

is very useful. Taking

this link

will show you resorts suitable for families.
Make sure you read our excellent post

'

How to choose a chalet for a family ski holiday' from the Chaletline blog and be sure to check the
'Childcare' link on every property page, just below the chalet photographs with full details of what's available.
Why Choose a Catered Chalet for your Family?
A Chalet or Chalethotel is the ideal holiday when you have children. You have your mountain home for the duration of your stay without the cleaning, cooking or the washing up!
Most chalets welcome children and provide 'high tea', an early supper with child-friendly menus tailored especially to suit your little ones' tastes.

In-house childcare is run by the holiday operator, in most cases, this means a British run company with English speaking staff. The childcare will be run to strict specifications and to a high set of standards.
Alternatively, you have the option to book any chalet or hotel and book locally run childcare.
All details are listed on the resort pages of this website.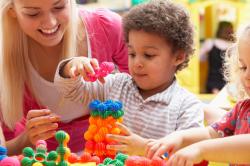 Chalet prices for infants and children
Under 2's are classed as infants and pay a far smaller holiday cost, assuming they occupy a cot. Cots and high chairs are normally included in their price.
For children, over two years old the rate varies chalet by chalet and by date and occupancy level. For example, children in an extra bed can sometimes join a chalet at half price or even free!
Generally, by age 12 children are classed and priced as adults.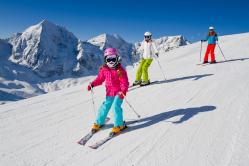 Children's Food
Chalet holidays are very flexible and children tend to have an earlier supper. They are usually offered child friendly food leaving the adults to eat later in the evening.
Some chalets leave the choice of eating time with the parents. "What's on the menu?" - shown on the details for each individual chalet page (and shown below) often provides guidance in this area:
Keeping them happy off the slopes…
Even after a day on the slopes, children are always looking for things to do. Most chalets that we offer have a TV and DVD and almost all have offer free WIFI.
If you are uncertain of a chalet facilities the Chaletline team can soon check for you.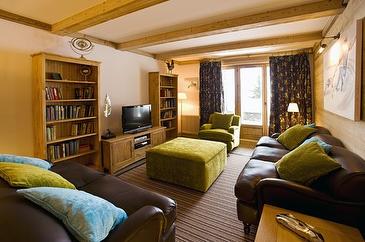 Ski Schools
Ski schools are vital to the success of a family holiday - we know how important it is to making your ski holiday work for you.
Some family operators provide lessons via a local school exclusively for the children of their own chalet guests. Others work closely with a carefully chosen school with English speaking instructors. Each property page has a link to all the ski schools available to you in that resort.
Getting children settled and comfortable in their lessons is essential to an enjoyable holiday for the entire family – most lessons can be pre-booked and of course the Chaletline team is always happy to help and advise.
For any queries about family ski chalet holidays please just contact the Chaletline team.