Car Hire in the Alps : Tips and Advice
Why hire a car for your ski holiday?
With independent travel now so easy to book, some of our clients choose to arrange their own flights, then hire a car from the airport and drive to resort.
Airport car hire can work really well and there are a number of advantages. We make it easy for you and take a look at the arguements for and against hiring a car for your catered chalet holiday, as well as some tips.
The Pros
The Alps are beautiful to drive in, with stunning valleys and mountains.
Having a car also gives you the flexibility to try other resorts nearby. e.g. trying La Grave while staying in Alpe d'Huez, or Sainte Foy while in Val d'Isere
A car means you are not restricted to a tour operator's transfer times and can go directly from the airport to your chalet without waiting for any other flights or passengers to arrive (useful if you are travelling with young children)
A car can be particularly useful in resorts like Chamonix, where you normally need to use buses to reach the lifts, or connect ski areas
The Cons
After you account for petrol and the cost of motorway tolls, it can work out more expensive than the tour operator package
Parking can be expensive, particularly in high season. It can be free, but you will often have to park on the edge of resort.
Make sure you know what all the extra costs will be - are snow chains and child seat rental included?
The single most important challenge you can face with hiring a car in the Alps is the conditions. You may have to deal with snow & ice. Driving in sub-zero temperatures in a blizzard is a very different task from negotiating the M25!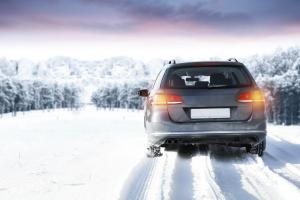 Our Nine Top Tips for Car Hire in the Alps
Don't skimp on size. A Ford Ka might cost less, but you'll be pushed for space – and just try squeezing a ski bag in!


Go Swiss in Geneva. You might be going to a French resort, but you should arrange to pick up your hire car on the Swiss side if flying into Geneva. It's often cheaper and it's much, much quicker and simpler to return your car on the Swiss side than the French side.


Take your own child seats. This might depend on how much luggage you have already, but taking your own car seats, particularly if they are booster seats, can save your money and ensure extra familiarity for your children. You may be able to take them as hand luggage, but even if you have to check them in it is still typically less expensive than paying the hire company.


Fill the car up before you return it. It will always cost you more if you leave the hire company to refill the tank. Always fill up before you hand the car back – and if possible not at the last petrol station before the airport (always the most expensive). Don't be tempted with the concept of returning the tank empty, which some companies offer – it can lead to a stressful last few miles wondering if you'll actually make it!


Know how to use snow chains. There's no point taking snow chains unless you know how to fit them. Make a point of finding out and testing before you are stuck on a cold, snowy road and trying to work out how to put them on before your hands freeze.


Take it easy. Unless you regularly drive on the right hand side of the road, then take it slowly to start off with. And always err on the side of caution when driving on snow or ice – slow down and you'll be less likely to have an accident.


Don't forget your driving licence. It is possible to get round this, but add the cost of calls to DVLC and possibly even a day lost from your holiday. Overseas you often don't need the paper part but it's worth taking anyway, just to be sure.


Smile and be polite. Your flight might have been delayed, but it's not the hire company's fault. Keep smiling and it could be you who gets the free upgrade that day.


Automatically say no. Never take an automatic if you are driving in the Alps. If you do need to brake on snow, you need a clutch!