CATERED SKI CHALETSCourchevel 1650
WEsay Catered ski holidays in Courchevel are great for families and groups alike. A fun resort with excellent nightlife and great food but without the prices of it's bigger sister at 1850.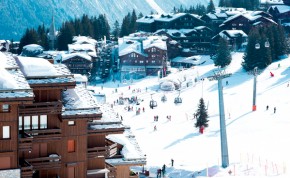 �DavidAndre-vuesstations-8 Courchevel Tourisme/David Andr�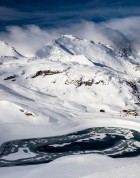 Shutterstock
Courchevel ski and snowboard holidays
Originally known as Moriond, this part of the resort provides all levels of skier with a variety of runs from which to choose, although the predominance of blues and greens makes it most suitable for families and parties of intermediate skiers. Situated in the Trois Vallées region in the Tarentaise Valley, the resort offers visitors access to over 600km of piste with a well-developed network of gondolas and lifts servicing the wider area. With the reputation of being the best winter sports destination in the world, it is no wonder that so many people head for this part of France. If you are considering a catered ski holiday in Courchevel, we have a good selection of hotels and ski chalets in Courchevel ideal for a variety of tastes and budgets.
Relaxing and affordable
A little lower down the mountain than its more boisterous neighbours, this level is perfect for those who want to indulge their passion for skiing at the same time as being able to enjoy some peace and quiet in beautiful surroundings. Alpine holidays are very popular and Courchevel ski chalets are usually fully booked well in advance. However, it is often possible to find a good deal on accommodation at the 1650 level, even when all the best packages at other levels have already been snapped up. The more laidback après-ski scene appeals to many and complements the excellent sporting facilities.
Taking it easy
Winter sports enthusiasts of all ages can enjoy the friendly atmosphere and pamper themselves letting somebody else handle all the hard work! Chaletline have a fine portfolio of properties in this resort with clean, comfortable rooms and many reasonably priced. Maybe not the best place to head if you are looking for a bargain break but it is far less expensive than other levels of the resort. If you require first-class accommodation that does not cost a fortune, you are sure to be pleased with what Courchevel 1650 has to offer. We have excellent value ski holidays to Courchevel in 2019 & 2020, get in touch or browse our site to find your ideal accommodation.
RESORT highlights
New for 2017/18
The big news is in Moriond (1650) where the long-awaited replacement Ariondaz gondola from the village to Bel Air will be in place for 2017/18. The old 6-person cabins will be rexchanged for new 8-seaters and it will be the first gondola in France to be lit both inside and out using power provided by on-board solar panels. It will carry 2400 people per hour, which will help to reduce queues forming and the ride time will be reduced from 12 minutes to seven. The journey back to the village will benefit from smart new snow cannon some of the extra 115 that will be installed in the Courchevel ski area for this season. A new 3km toboggan run has been built from top to bottom of the new gondola. It has eight underground tunnels and will be open every day and be floodlit until 7.30pm on Tuesdays and Thursdays.
New for 2016/17
Further major investments in snowmaking are being made. The already impressive children s village is being further developed. As part of the Handiski scheme to make snowsports accessible to disabled people, a dedicated teaching area will be opened at Pralong, above 1850, with 12 specially qualified instructors. Work has started on erection of a replacement for the Arondiaz gondola out of 1650 (Moriond), but it won t be completed until next winter.
best FOR
Vast, varied slopes many visitors tend to ignore or forget about
The rest of the Trois Vallees astounding snowmaking and piste grooming, and a good lift system
Partially wooded setting means you have options in bad weather Choice of four contrasting villages Some great restaurants and top-notch hotels and plenty of reasonable options in lower villages