Independent Travel to the Alps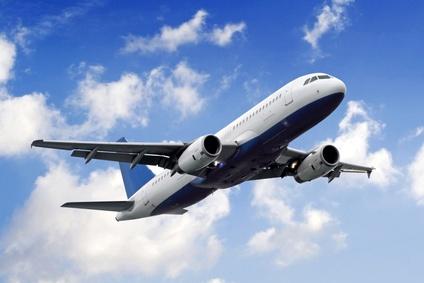 Have you already booked your own flights?
Do you live somewhere other than the UK?
Do you want to drive to the Alps?


Chalet holidays without Flights and Transfers
Some Chalets offer a discount from their price if you choose to 'own transport' and travel to the resort independently.
Reductions vary from a maximum of £150 pp from the package price at the more generous end to those that offer no discount at all.
On a brighter note for those looking to make their own way, quite a few of our chalets don't offer travel at all and the chalet price reflects a cost with no flights/transfers. If you are searching for a chalet holiday with independent travel, then simply select 'Indepedent Travel' from the 'Departure Airport' drop-down box on our Chalet Search page (see below) or simply call the team now and we'll soon have some of the best options for you to consider.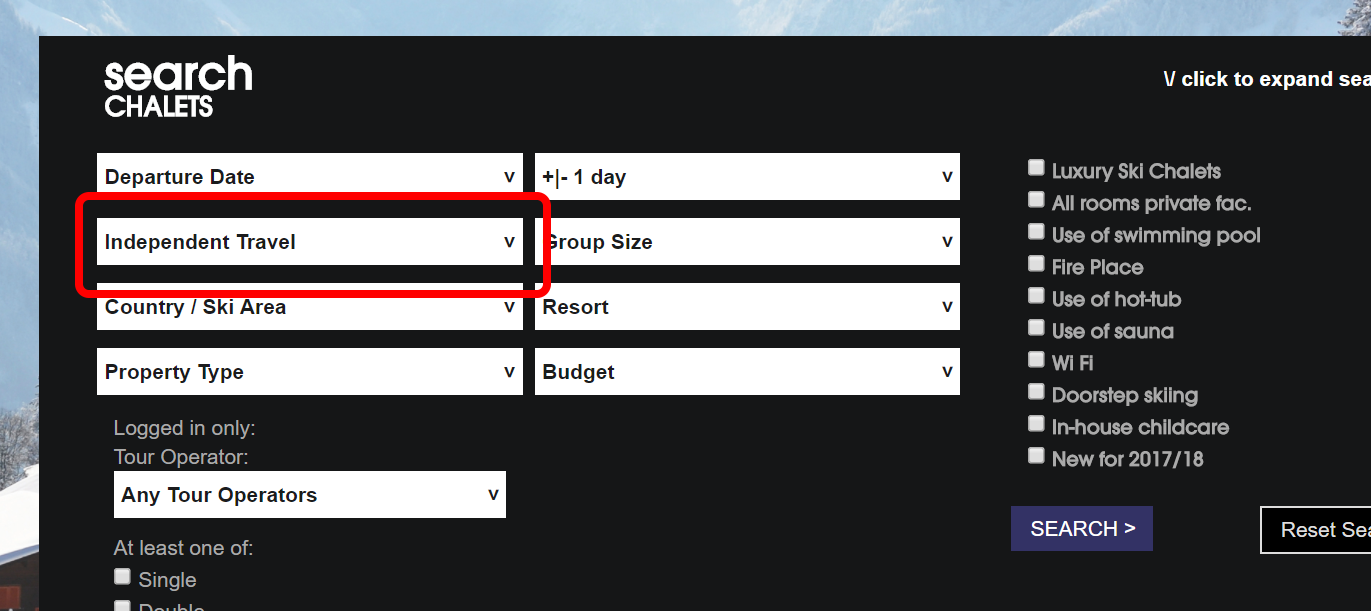 Flights to the Alps
Booking your own flights to the Alps (rather than taking the flights included in a package) can certainly offer you more flexibilty with departure days and times. If you take this option however you need to consider the cost of the transfer from the airport to the resort on arrival.
Transfers to resort
There are many many independent transfer companies out there, but you must be mindful of the costs, as it can be more than you expect. We can't book the transfers for you but we can try and make this as easy as possible for you. Please call us on 01822 617761 for more information on your options.
Train Travel
Travelling to your ski holiday by train can be great, not only will you be seriously reducing your carbon footprint but there's no charge for ski carriage and no luggage weight limits (only those set by what you can comfortably carry). Best of all you can get longer on the slopes depending which option you choose.
Some of the chalets we offer include packages that include the train instead of flights. With this option you typically travel out on a Friday, arriving on Saturday morning, and leave on Saturday evening, arriving back in the UK on Sunday. With this option, you can ski two extra days on each Saturday - giving you 8 days skiing, instead of 6. Just call us on 01822 617761 for details of chalets that offer this.
For 'independent' train travel, allowing you to book any combination of Eurostar and European trains, we are very happy to recommend the website SnowCarbon (www.snowcarbon.co.uk).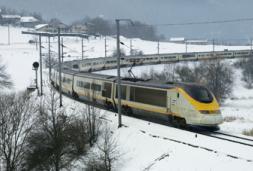 GREEN THINKING!
Flying to Meribel produces around 82kg of C02 per person; driving creates 219 kg CO2 per car; but travelling by train produces only 11 kg of CO2 per person.
Self Drive Ski Holidays In Europe Advice
Many of our clients choose to drive to their chalet direct. If you opt to self-drive then we are more than happy to provide maps and driving directions. Many chalets have parking spaces available for use by guests, otherwise we can advise on the best options in resort.
For more advice on travel options please call on 01822 617761 or complete our enquiry form.
Please don't forget that driving laws vary from country to country. Please read below for full details.


Drive on the right. Be especially careful when starting off from the ferry or Eurorunnel and setting off from service stations.

Take care when overtaking - allow more space between you and the car in front so you can see further down the road ahead.

France has strict drink driving laws, blood alcohol levels being stricter than in the UK (0.5 mg/ml rather than 0.8). Rather than present you with meaningless figures relating to blood/breath alcohol levels, our advice is if you're driving, don't drink. Mote also that it's compulsory to carry your own breathalyzers when driving in France (minimum of 2). These are availablle in UK from various outlets including Halfords for example.

Seat belts front and rear are obligatory everywhere.

Speed limits, shown below, are implemented rigorously. Radar traps are frequent. In France, anyone caught travelling at more than 25km/h above the speed limit can have their licence confiscated on the spot.

Remember - Speeding and other traffic offences are subject to on-the-spot fines.

Be aware that urban speed limits begin at the town or city sign (not always where the first 50km/h sign is situated), usually denoted by a white name panel with a red border, and the limit ends where the name panel has a diagonal black bar through it

Take care in built-up areas where the old rule giving priority to traffic coming from the right (Priorité a droite) still applies unless a yellow diamond indicates you have priority. On roundabouts you generally give priority to traffic already on the roundabout, i.e. coming from your left.
Speed Limits
| | | | | | |
| --- | --- | --- | --- | --- | --- |
| Speed Limits | Motorway | Open Road | Dual Carriageway | Town | Alcohol mg/ml |
| France | 130 km/h (110 when wet) | 90 km/h (80 when wet) | 110 (100 when wet) | 50 km/h | 0.5 |
| vehicles towing trailers with combination gross weight over 3.5t | 90 km/h | 80 km/h | 90 km/h | 50 km/h | |
| Visiting motorists holding a licence for less than 2 years | 110 km/h | 80 km/h | 100 km/h | 50 km/h | |
Children in cars
Children under 10 are not allowed in the front. In the rear they must use a proper restraint system appropriate to their weight, which means a child seat if they weigh between 9 and 15 kg. Over this weight they can use seat belts with a booster cushion.
Documentation
Always carry your driving licence, vehicle registration document (V5), and certificate of motor insurance. If your licence does not incorporate a photograph ensure you carry your passport to validate the licence. If the vehicle is not registered in your name, carry a letter from the registered owner giving you permission to drive.
Drinking and driving
Just a reminder - don't do it. Over 0.05 per cent and you could face anything up to imprisonment.

Fines
On the spot fines are issued. Ensure an official receipt is issued by the officer collecting the fine.
First-aid kit
Advised, but not compulsory.
Fuel
All grades of unleaded petrol and diesel are available. As in the UK, LPG is only available at some stations. Leaded no longer exists. It is allowed to carry petrol in a can. It's a good idea to let your card issuer know you will be travelling abroad. This ensures they don't suspend your card if they spot it being used in unfamiliar places, which they sometimes do as an anti-fraud measure.
GB sticker
UK registered vehicles displaying Euro-plates (circle of 12 stars above the national identifier on blue background) no longer need a GB sticker when driving in European Union countries.
Headlamp converters
These are compulsory.
Lights
Dipped headlights must be used in poor daytime visibility. Motorcycles over 125cc must use dipped headlights during the day at all times. A replacement buib set is recommended.
Minimum age for driving
Provided you hold a full UK licence, is 18 for a car and a motorcycle over 125cc and 15 for a motorcycle under 125cc.

Motorcycle helmets
Drivers and passengers must wear crash helmets.

Motor insurance
Third-party insurance is compulsory. A green card is not required but your insurer should be advised of your trip.
Snow chains
Recommended during winter. Winter tyres are recommended but not compulsory. During bad conditions, the local police can make the use of chains compulsory and if you travel without them beyond a certain point the police can prevent you continuing your journey. Read our blog post about how to use snowchains. Chaletline customers are eligible for a discount with Snowchains.com
Supermarkets
Most supermarkets are closed on Sunday.
Hi-Vis Vests
These are compulsory in Austria, Belgium, Italy, Norway, Portugal and Spain (and likely to become compulsory throughout the EU). The rules vary from country to country concerning number of vests required and whether they should be carried in the car or boot. Common sense suggests that there should be a vest for every occupant, and that the vests should be carried in the car, and put on before getting out. Do this and you will not have a problem.
Warning triangles
It is compulsory to carry one of these. The triangle can be used in conjunction with hazard flashers.