AMAZING SKI CHALETSCourchevel 1550
WEsay Situated directly below 1850 on the mountain, 1550 is becoming a serious satellite of it's sophisticated sister.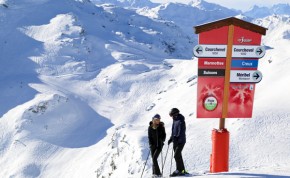 CourchevelTourisme-SkiAlpin-42 Courchevel Tourisme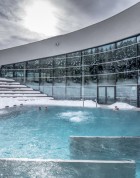 AlexisCornu-Aquamotion-94 Courchevel Tourisme/Alexis CORNU Photography
Courchevel has the reputation of being the world's best ski resort and is undoubtedly the chicest in France. The resort is split into four quite separate villages at different altitudes and between them, they offer something for everyone. They are brilliantly linked both to each other and to the whole of the Trois Vallees area, which includes the resorts of Val Thorens and Meribel. The scenery here is beautiful and the pistes are immaculate.
The skiing is truly outstanding and on an incredible scale with over 600km of piste in the Trois Vallees area. From 1850 the pistes and gondolas spread out in all directions providing lots of picturesque, gentle skiing for beginners or those who just want to take it easy. For a more vertical challenge, experts can head up to the highest point Souliere with the infamous Couloirs. Only the grand couloir remains a marked piste, but it is something of a rite of passage for all good skiers and is much trickier than it looks.
Courchevel is just as entertaining for non-skiers with swimming, ice-skating, bowling, climbing, snowmobiling, paragliding, a 2km sledge run from 1850 down to 1550 and 20km of groomed hiking trails. Or alternatively, flex your credit card and hit the plethora of shops.
1550 is situated directly below 1850. As it is linked by a gondola to the rest of the resort it has access to exactly the same skiing but its nightlife provides a nice contrast to the hedonistic evenings of 1850. There are a couple of nice, friendly bars and decent restaurants but those after anything more had best head up the mountain.
RESORT highlights
New for 2017/18
The big news is in Moriond (1650) where the long-awaited replacement Ariondaz gondola from the village to Bel Air will be in place for 2017/18. The old 6-person cabins will be rexchanged for new 8-seaters and it will be the first gondola in France to be lit both inside and out using power provided by on-board solar panels. It will carry 2400 people per hour, which will help to reduce queues forming and the ride time will be reduced from 12 minutes to seven. The journey back to the village will benefit from smart new snow cannon some of the extra 115 that will be installed in the Courchevel ski area for this season. A new 3km toboggan run has been built from top to bottom of the new gondola. It has eight underground tunnels and will be open every day and be floodlit until 7.30pm on Tuesdays and Thursdays.
New for 2016/17
Further major investments in snowmaking are being made. The already impressive children s village is being further developed. As part of the Handiski scheme to make snowsports accessible to disabled people, a dedicated teaching area will be opened at Pralong, above 1850, with 12 specially qualified instructors. Work has started on erection of a replacement for the Arondiaz gondola out of 1650 (Moriond), but it won t be completed until next winter.
best FOR
Vast, varied slopes that many visitors ignore or forget about
The rest of the Trois Vallees boasts splendid snowmaking and piste grooming, accompanied with a decent lift system
Partially wooded setting means you have options when the weather is poor
Choice of four contrasting villages Some good restaurants, ideal hotels and plenty of reasonable options in lower villages